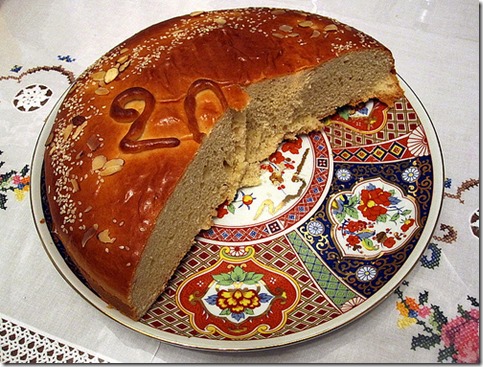 Many Orthodox have a New Year's, or Christmas or Epiphany, custom that has to do with the baking and eating of the Vasilopita (Basilopita). So, what is it?
The Vasilopita "is a New Year's Day bread or cake in Greece and many other areas in eastern Europe and the Balkans which contains a hidden coin or trinket which gives good luck to the receiver, like the Western European king cake. It is associated with Saint Basil's day, January 1, in most of Greece, but in some regions, the traditions surrounding a cake with a hidden coin are attached to Epiphany or to Christmas. It is made of a variety of doughs, depending on regional and family tradition, including tsoureki." – Wikipedia.
It is not merely an Orthodox practice, but can also be found among some Muslims, and certainly among many cultures in the West. In fact, you probably did not know what an important part that cake plays in New Orleans. Yes, New Orleans, where it is known as gallete des Rois, or King Cake. In fact, there is a small linguistic pun there. Vasilopita could be translated as either Basil's cake or King's cake. Basil's name comes from the word Basilias, which translates as King. So, is it Basil's cake, which is celebrated on or near Saint Basil's Day on January 01st, or is it King's cake, which is celebrated on or near Epiphany, which is also Three King's Day, in memory of the Magi? I suspect that it would take a couple of rather competent scholars to try to sort that one out. Nevertheless, it is a fun tradition.
Now, for the New Orleans story. First, you should know that for those who follow this tradition, the time of the king cake goes from the end of the Twelfth Day of Christmas up until Fat Tuesday (Mardi Gras). During that time, friends, family, organizations may have parties at which king cake is served all the way through this time until Fat Tuesday. Rather than a coin, a small figurine of a baby is hidden in the cake. This would be true in Louisiana, Portugal, France, Belgium, etc. In passing the English have a Twelfth Night festivity of their own. It is thought that the first Carnival in the USA was celebrated by French-Canadian explorer Pierre Le Moyne d'Iberville on March 2, 1699 in a camp about 60 miles south of the present location of New Orleans. The king cake took a little while longer to get here.
But, beginning on January 6th, residents of New Orleans begin holding king cake parties. They are actually more important, in many families and kith groupings, than the krewes of Mardi Gras and their parades. It is a time of renewing relationships and friendships. How important are they? Well, after Hurricane Katrina in August of 2005, New Orleans was left devastated. But, next Mardi Gras season, in 2006, something interesting happened. "Thousands and thousands of King Cake orders flooded bakeries both inside and outside of Louisiana." But the orders did not simply come from New Orleans. They also came from every place where there were displaced Louisianans. King Cake became the way that they kept something of their home state with them wherever they were.
So, whether you are Orthodox or Catholic, or even Anglican, consider Vasilopita or King Cake. It is a tradition worth keeping, or starting anew if you have never ever followed that tradition. It symbolizes family, friends, and hopes for the New Year. It is a fun family time, and can even be something that lets you build something to pass on from one generation to another. In some churches, you can have the cake blessed. In others, it can simply be part of a warm tradition. In America, Thanksgiving has taken up many of the meanings and wishes of the Vasilopita or King's Cake. But, that does not mean that you cannot join in this age-old tradition, with the hidden gift that communicates the desire that your joy may be made full.